In today's digital world, having a website for your business is a must. To make your website available to the public, you need to have it hosted on a server that is connected to the internet. In addition to website hosting, you also need email hosting to send and receive emails using your domain name. And finally, to have a website and email hosted, you need to have a domain name registered. All of these services can be overwhelming for a business owner, but with Sunnvalley's Value-Based pricing and hosting and maintenance plans, managing these services is simple and cost-effective.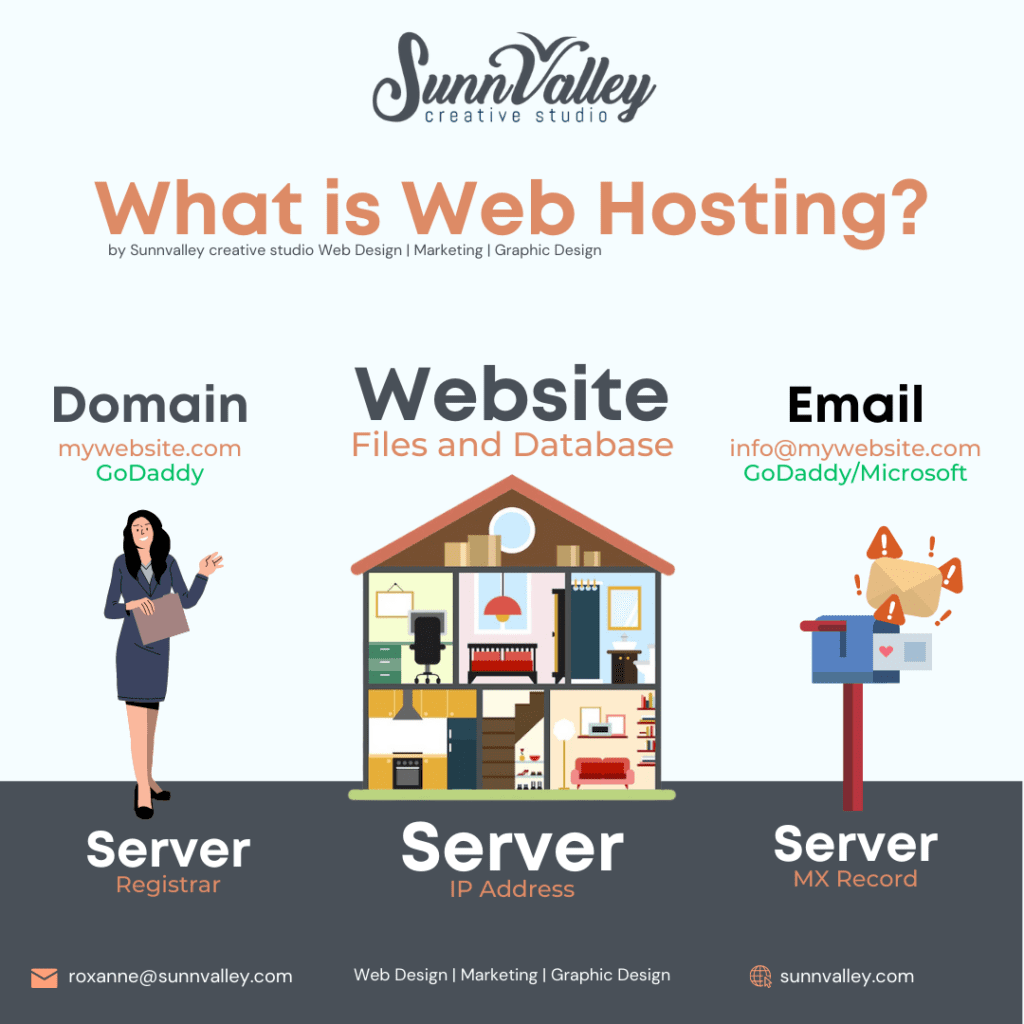 Website Hosting
Website hosting refers to the service of storing your website's files on a server that is connected to the internet. When someone types in your website's domain name in their web browser, the browser sends a request to the server where your website is hosted, and the server sends the files back to the user's browser, which then displays the website on the user's screen.
Sunnvalley offers website hosting with Value-Based pricing and hosting and maintenance plans. They use high-performance servers that are located in secure data centers, ensuring that your website is available to your customers 24/7. They also offer various hosting packages to suit your needs, ranging from basic shared hosting to virtual private servers and dedicated servers. With their hosting packages, Sunnvalley takes care of all the technical aspects of hosting your website, such as server maintenance and security updates, so you can focus on running your business.
Email Hosting
Email hosting refers to the service of using your domain name to send and receive emails. For example, if your domain name is "example.com," you can set up email addresses such as "[email protected]" or "[email protected]" to use for your business. This gives your business a professional appearance and allows you to use your domain name in all of your email communications.
Sunnvalley offers email hosting with the use of your registered domain. They use industry-standard email hosting software, such as Microsoft Exchange and Office 365, which allows you to access your emails from anywhere, using any device. Email hosting packages come with various features, such as spam filtering and virus protection, to ensure that your email communications are secure and protected from spam and malware.
Domain Registration
Domain registration refers to the process of registering a domain name, such as "example.com," with a domain registrar. Once you register a domain name, you own that domain name for a certain period of time, usually one to ten years, depending on the registrar and the length of registration you choose. You can then use that domain name for your website and email hosting.
Sunnvalley offers domain registration and transfer services. Sunnvalley makes the process of registering or transferring a domain name simple and easy, guiding you through the process of choosing a domain name and checking its availability. They also offer various extensions, such as ".com," ".net," and ".org," so you can choose the one that best suits your business.
Hosting and Maintenance Plans
In addition to its Value-Based pricing, Sunnvalley also offers hosting and maintenance plans that provide additional benefits and services to their customers. These plans include regular website backups, security updates, and website maintenance to ensure that your website is always up-to-date and protected from security threats. They also offer website redesign and development services, so you can update your website to keep up with changing trends and technology.
Sunnvalley's hosting and maintenance plans are a cost-effective way to ensure that your website is always running smoothly, without having to worry about technical issues or security threats. They provide a comprehensive suite of services, from the website hosting to website development and maintenance, all for a single monthly fee.