In the tranquil landscapes of Columbia, New Hampshire, a new chapter in the world of pet care unfolded as North Woods Paw, a premier dog boarding business emerges. Their journey towards digital success was paved by the tireless efforts of Sunnvalley, a prominent web design company based in Northern NH. In this blog post, we delve into the story of how Sunnvalley, with its comprehensive web design and branding services, transformed North Woods Paw into a captivating online presence.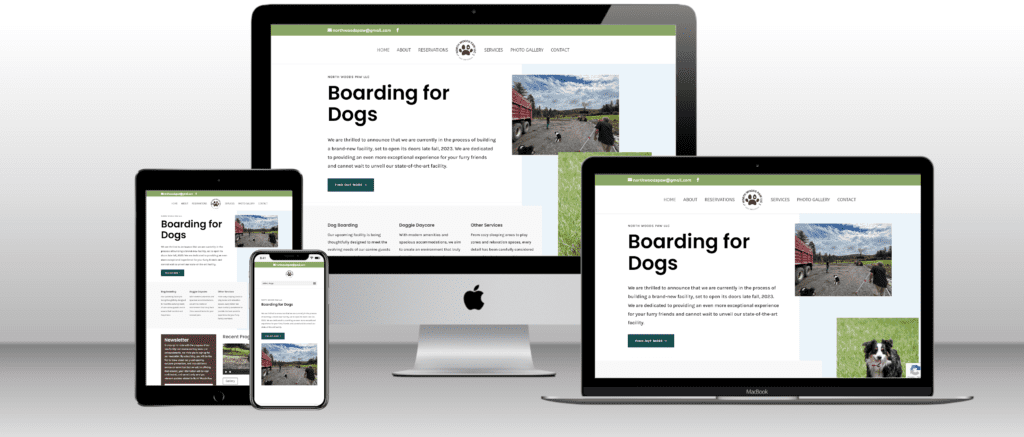 A new business called North Woods Paw
North Woods Paw, started by Paula White, a passionate pet enthusiast, decided to convert her love for dogs and a need for boarding in the area into a new business venture. Nestled in the heart of the Great North Woods, North Woods Paw is a serene boarding facility for dogs, offering top-notch boarding services amidst the scenic beauty of Columbia.
The Role of Sunnvalley, NH Web Design Company
Sunnvalley, known for its expertise in web design and branding, was entrusted with the task of bringing North Woods Paw's vision to life in the digital realm. The multifaceted journey included:
Logo & Brand Design: The foundation of any brand's identity is its logo, and Sunnvalley crafted a logo for North Woods Paw that impeccably encapsulated their love for dogs and the enchanting wilderness surrounding their facility. The brand design harmoniously extended this theme, evoking feelings of warmth, trust, and natural beauty.
Website Development: Sunnvalley's web design wizards conjured up a website that not only appealed to the visual senses but also offered seamless navigation and functionality. The website became a virtual gateway to North Woods Paw's haven, complete with stunning visuals, user-friendly layouts, and intuitive design.
Hosting Services: With the website design in place, Sunnvalley ensured reliable hosting services. This ensured that North Woods Paw's digital home was not only beautiful but also dependable.
Content Creation: Crafting engaging and informative content is essential to connect with online visitors. Sunnvalley, in close collaboration with Sarah and David, compiled insightful content about pet care, the joys of dog ownership, and the unique charm of Columbia.
On-Page SEO: Sunnvalley's SEO experts optimized the website's on-page elements to enhance its visibility on search engines. This strategic approach helped North Woods Paw reach a wider audience and attract dog lovers from far and wide.
Domain Hosting & Registration: To secure North Woods Paw's online presence, Sunnvalley took charge of domain hosting and registration. This ensured that the website's address was both memorable and reflective of the business's identity.
Free local directory Listing: SunnValley features our customers on their website Great North Woods Region. This is a free service and listing for off-page link building for SEO.
Exploring North Woods Paw's Captivating Website
Let's take a virtual tour through North Woods Paw's website. This is a testament to Sunnvalley's expertise in web design and branding:
Homepage: Visitors are greeted with images of the North Woods Paw facility, setting the tone for an unforgettable experience. A user-friendly navigation menu guides them through the site's various sections.
About Us: Here, North Woods Paw's story unfolds, showcasing dedication to creating a home away from home for dogs.
Services: Detailed descriptions of the boarding services, amenities, and care routines offered. Also included are current photos of the facility. This shows what visitors can expect.
Gallery: A gallery of images captures the construction of the North Woods Paw facility, further cementing the connection with potential clients.
Contact: A straightforward contact form and essential contact information make it easy for interested pet parents to get in touch.
Reservations: This page explains pricing and what to expect with a stay at the facility. This is also where you can expect to request a reservation in the near future.
Conclusion
The story of North Woods Paw's journey of creating a dog boarding business in Columbia, NH with a captivating online presence is one of collaboration, passion, and expertise. Thanks to Sunnvalley, a web design company in Northern NH, this transition has been seamless and beautiful.
Today, North Woods Paw's website is a testament to the power of a strong online presence. This is where a well-crafted website and branding can elevate a local business to new heights.
So, whether you're a dog owner seeking a serene boarding experience in the North Woods Region or simply appreciate the artistry of web design and branding, we invite you to visit North Woods Paw's website. It's a story of thought, dedication, and the harmonious blend of nature and digital craftsmanship.