In today's digital age, local businesses must harness the power of search engine optimization (SEO) to enhance their online presence and attract local customers. Local SEO is a specialized branch of digital marketing that focuses on optimizing a business's online visibility for local searches. Here are the 10 best SEO tips for local online marketing to help your business thrive in the competitive local landscape.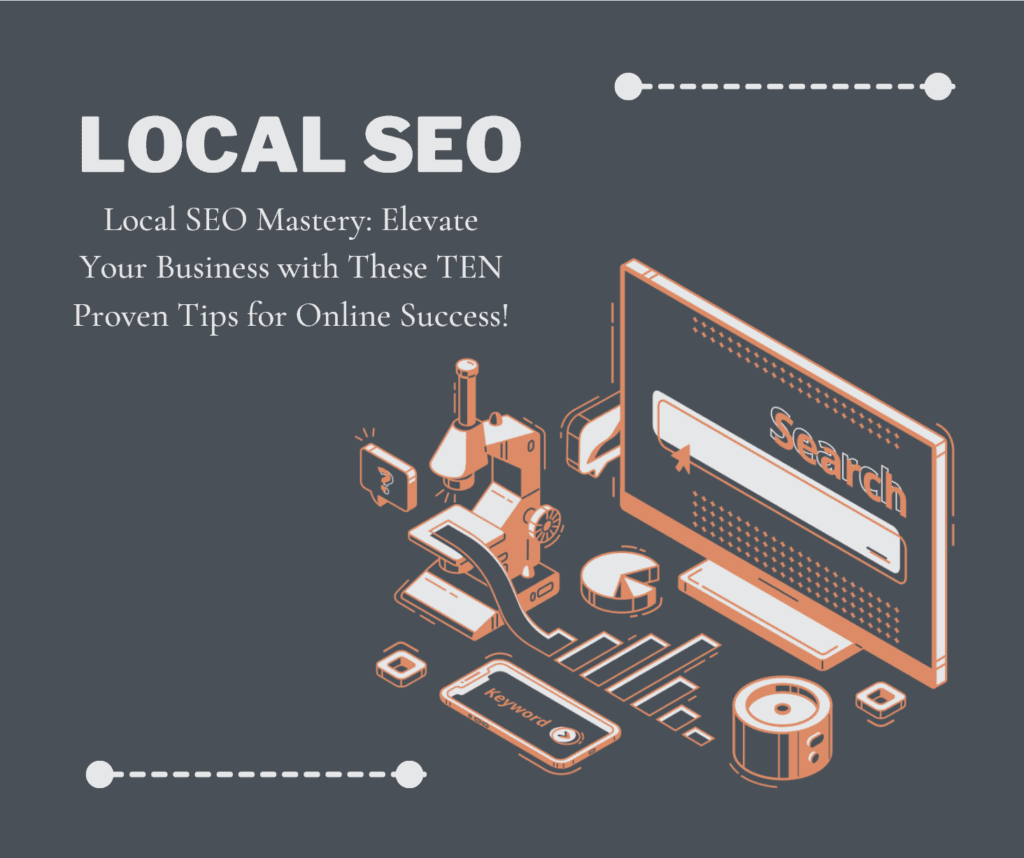 Google My Business Optimization:

Claim and verify your Google My Business (GMB) listing.
Ensure that your business information, such as name, address, phone number, and business hours, is accurate and consistent.
Add high-quality images that showcase your products, services, and the interior of your business.

Local Keyword Research:

Identify and target relevant local keywords that potential customers are likely to use when searching for products or services in your area.
Use tools like Google Keyword Planner or other SEO tools to discover keywords with high search volumes and low competition.

On-Page SEO:

Optimize your website's meta titles, meta descriptions, and header tags with local keywords.
Include your business's name, address, and phone number (NAP) on every page.
Create localized content that speaks to the needs and interests of your local audience.

Mobile Optimization:

Ensure that your website is mobile-friendly, as a significant portion of local searches occurs on mobile devices.
Optimize page load times to provide a seamless experience for mobile users.

Online Reviews and Ratings:

Encourage satisfied customers to leave positive reviews on platforms like Google, Yelp, and other relevant review sites.
Respond promptly to both positive and negative reviews to show your engagement and commitment to customer satisfaction.

Local Link Building:

Build local backlinks from reputable websites in your community, such as local newspapers, chambers of commerce, and community organizations.
Collaborate with local influencers and businesses to create mutually beneficial partnerships.

Social Media Presence:

Maintain an active presence on social media platforms, especially those popular in your local community.
Share local events, promotions, and community engagement initiatives to connect with your audience.

Location Pages:

If your business operates in multiple locations, create individual location pages on your website.
Optimize each location page with unique content, NAP information, and relevant keywords.

Schema Markup:

Implement local business schema markup on your website to provide search engines with structured information about your business, such as business type, hours of operation, and customer reviews.

Monitor and Analyze Performance:

Use tools like Google Analytics and Google Search Console to monitor your website's performance and track the effectiveness of your local SEO efforts.
Adjust your strategy based on insights and continue to refine your approach over time.
By implementing these 10 best SEO tips for local online marketing, your business can improve its visibility in local search results, attract more local customers, and ultimately thrive in the competitive local market. Stay consistent, adapt to changes, and prioritize the needs of your local audience to achieve long-term success in your online marketing endeavors.