In today's digital age, having a website that is visually appealing, easy to navigate, and secure is crucial for any business to succeed. As a business owner, you want your website to be a reflection of your company's brand and values. However, designing and maintaining a website can be a daunting task, especially if you don't have any experience in web development. This is where a web design company like Sunnvalley, NH, can help.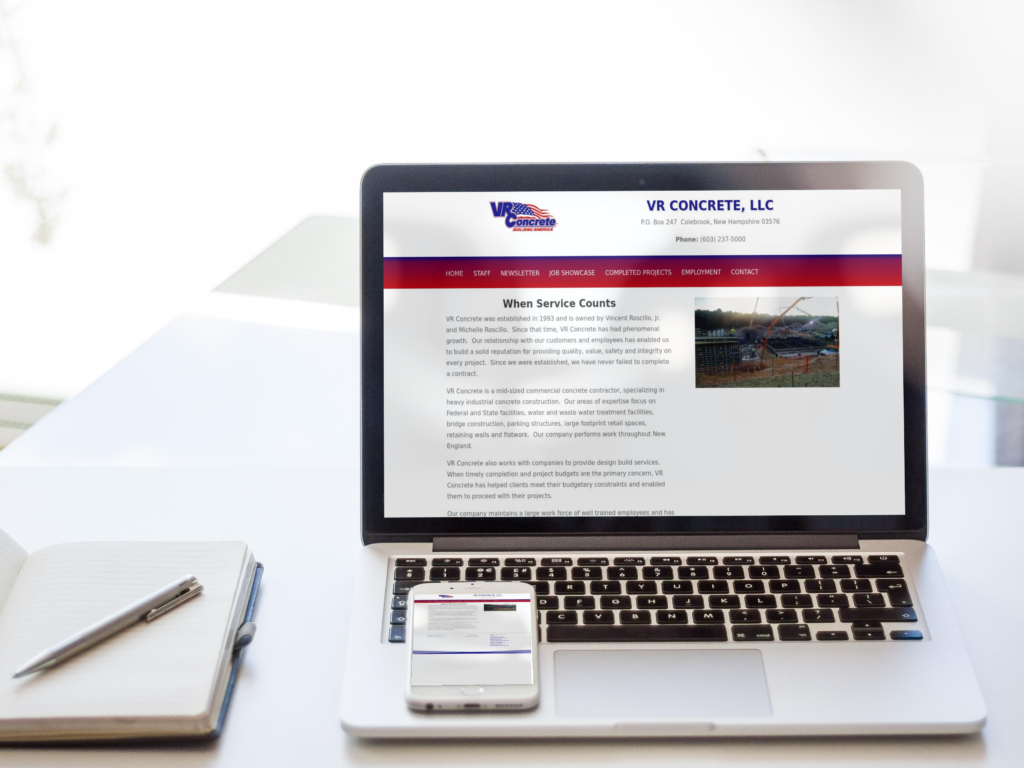 Recently, Sunnvalley, NH, worked with VR Concrete of Stratford, NH, to redesign their website as part of their Website Makeover Initiative. The project involved updating their hosting, content management system (CMS) software, and security measures. Additionally, VR Concrete wanted to incorporate their own logo into the design and have the ability to update their site and site projects as needed.
Sunnvalley, NH, is a web design company that offers a range of services to help businesses of all sizes create and maintain their online presence. Whether you need a brand new website or want to update an existing one, Sunnvalley can help. They offer a variety of hosting and maintenance plans that keep clients up to date and ensure that websites maintain design consistency.
One of the key features that Sunnvalley offers is flexibility. They understand that every business has unique needs and goals, and they tailor their services accordingly. For clients who don't want to commit to a hosting and maintenance plan, Sunnvalley offers training so that business owners can learn how to update and maintain their website on their own.
Sunnvalley's approach is to meet their clients where they are in their business journey. This means that they take the time to understand each client's goals and needs, and then create a customized plan that fits their budget and timeline. Whether you're just starting out or have an established online presence, Sunnvalley can help you take your website to the next level.
The project with VR Concrete is a perfect example of how Sunnvalley works with their clients. VR Concrete had a clear vision of what they wanted their website to look like and how they wanted to update it. Sunnvalley took their ideas and turned them into a fully functional website that is both aesthetically pleasing and easy to use.
In addition to updating the design and functionality of the site, Sunnvalley also ensured that the site was secure. This is a crucial aspect of any website, but it's especially important for businesses that collect sensitive information from customers. Sunnvalley takes security seriously and uses the latest technology to keep their clients' websites safe from hackers and other threats.
Sunnvalley also understands the importance of branding, which is why they worked with VR Concrete to incorporate their logo into the website design. A company's logo is often the first thing that customers see, so it's essential that it accurately represents the company's brand and values. Sunnvalley helped VR Concrete create a logo that is unique, memorable, and visually appealing.
Overall, the project with VR Concrete was a success. The website is now modern, user-friendly, and secure. VR Concrete has the ability to update their site and site projects as needed, which is essential for a business that is always evolving. Sunnvalley's hosting and maintenance plans are available to ensure that the site remains up-to-date and consistent with VR Concrete's brand.
In conclusion, having a well-designed and secure website is essential for any business in today's digital age. Sunnvalley, NH, is a web design company that offers a range of services to help businesses create and maintain their online presence. Their approach is flexible and tailored to each client's unique needs, and they prioritize security and branding. The success of their project with VR Concrete is a testament to their expertise and commitment to their clients.