In today's digital era, having a well-designed website is paramount for businesses looking to establish their online presence. Sunnvalley, is a reputable professional web design company based in New Hampshire. NH web design agency recently had the privilege of creating the first-ever website for CDS Portable Toilets. This exciting collaboration allowed Sunnvalley to showcase their expertise. Sunnvalley also empowered CDS Portable Toilets with a visually appealing and functional online platform. Due to a refined design process, Sunnvalley completed the website within a week. Sunnvalley highlighted their commitment to delivering efficient and high-quality web design solutions. Join us as we delve into the journey of this remarkable partnership and explore the outstanding outcomes it yielded.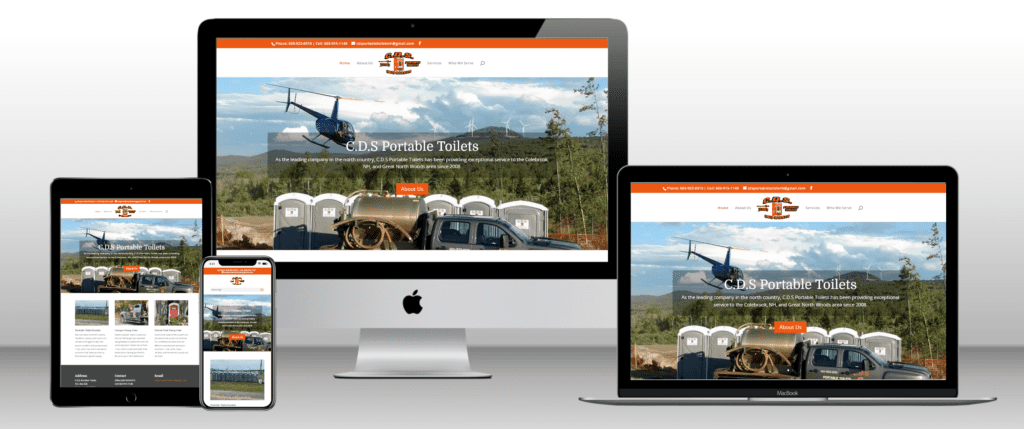 Captivating Design and User Experience
Sunnvalley, NH web design company, embarked on a collaborative process with CDS Portable Toilets gaining knowledge of their unique requirements. The website needed to reflect CDS Portable Toilets' professionalism, reliability, and dedication to providing exceptional customer service. With these objectives in mind, Sunnvalley meticulously crafted a visually captivating design that seamlessly blended functionality and aesthetics.
The website's color palette, typography, and imagery were carefully chosen to align with the company's branding. Sunnvalley created a cohesive and impactful online presence. Sunnvalley also ensured an intuitive user experience, implementing a well-organized navigation system that guided visitors effortlessly through the site. Whether customers were seeking information about services, or requesting a quote, the professional web design effortlessly catered to their needs.
Responsive and Mobile-Friendly
In today's mobile-driven world, ensuring a seamless browsing experience across different devices is essential. Recognizing this, Sunnvalley implemented a responsive design that allowed the website to adapt seamlessly to various devices and screen sizes. This mobile-friendly approach ensured that customers could easily access information and engage with CDS Portable Toilets on any device.
To enhance the mobile experience further, Sunnvalley optimized the website's load time, ensuring swift and efficient browsing on smaller screens. By optimizing image sizes, compressing files, and leveraging caching techniques. Sunnvalley ensured that users on mobile devices could navigate the website with ease. A well-designed website enhances user satisfaction and encourages repeat visits.
Search Engine Optimization
Creating a visually appealing website is only half the battle; the site must also be discoverable by potential customers. Sunnvalley incorporated essential search engine optimization (SEO) techniques into the website's development process. This technique improves website visibility in search engine results pages (SERPs).
First, Sunnvalley conducted keyword research related to the portable toilet industry, identifying relevant keywords and phrases that potential customers were likely to search for. They strategically placed these keywords in the website's meta tags, headings, and content to optimize its search engine visibility.
Furthermore, Sunnvalley ensured that the website had a well-structured architecture, with clear and concise URLs, descriptive titles, and informative meta descriptions. This optimization allowed search engines to crawl and index the site more effectively, resulting in improved organic rankings.
Additionally, Sunnvalley focused on creating high-quality, informative, and engaging content. Good content not only appeals to search engines but also provided value to visitors. By incorporating targeted keywords naturally within the content, Sunnvalley helped increase the website's relevance. Relevant search queries drive organic traffic, and generate leads for CDS Portable Toilets.
Quick Turnaround Time
One of the most impressive aspects of Sunnvalley's collaboration with CDS Portable Toilets was the remarkably short turnaround time. Within just one week, Sunnvalley was able to conceptualize, design, develop, and launch the website. This ensured that CDS Portable Toilets could establish their online presence without delay. CDS Portable Toilets owners were great to work with. This timely delivery was a testament to Sunnvalley's commitment to meeting client expectations and their efficient project management processes.
The partnership between Sunnvalley and CDS Portable Toilets resulted in the creation of an exceptional website. The new website design fulfilled the company's digital aspirations. Sunnvalley skillfully brought the client's vision to life, combining captivating design elements, user-friendly navigation, mobile accessibility, and effective SEO strategies. The completion of this project within a week showcases Sunnvalley's dedication and expertise in delivering efficient and high-quality web design services. With their new website, CDS Portable Toilets is well-positioned to connect with customers. In turn, this enhances their brand image and paves the way for future success in the competitive portable toilet industry. This successful collaboration highlights the trust and confidence that businesses can place in Sunnvalley to embark on their digital journey and achieve their online goals.