In the era of digital ecommerce, having a captivating and user-friendly website is essential for businesses to thrive. Sunnvalley, a renowned web design company based in New Hampshire, has recently partnered with Muddy Boots Maple, a maple syrup business located in Berlin, NH, to build a state-of-the-art e-commerce website. This blog post explores Sunnvalley's role in empowering Muddy Boots Maple with a robust online platform. By providing services such as domain registration, hosting and maintenance plans, on-page SEO, and comprehensive support and reporting, Sunnvalley has helped Muddy Boots Maple unlock their full potential in the competitive world of online retail.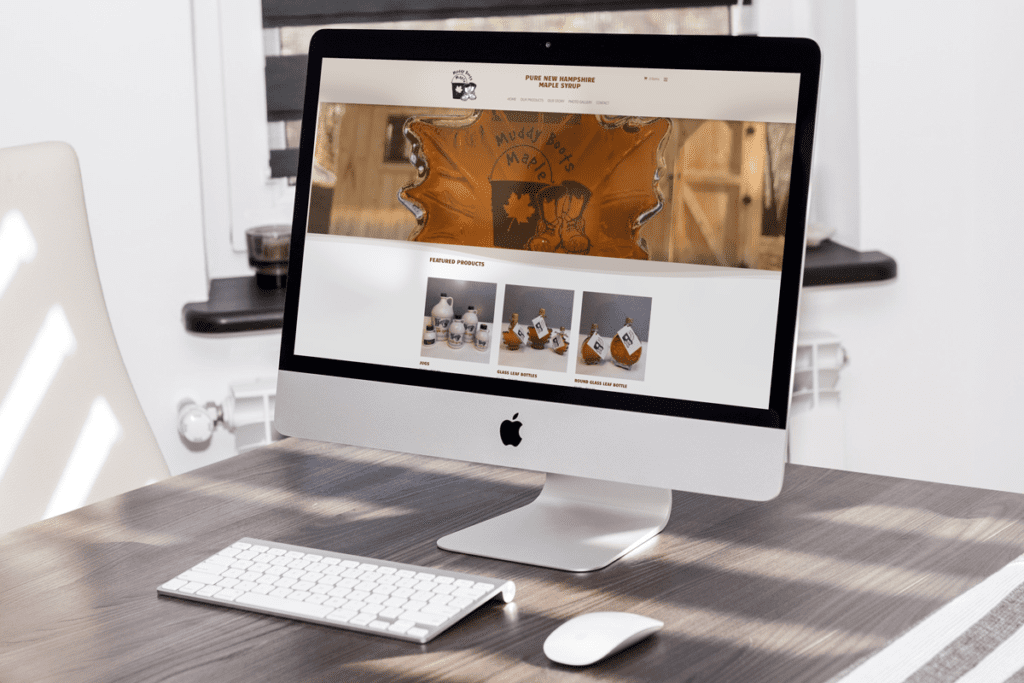 Domain Registration
Sunnvalley understands the importance of a unique and memorable online identity. To establish Muddy Boots Maple's digital presence, Sunnvalley facilitated the domain registration process. By carefully selecting and securing an appropriate domain name, Sunnvalley ensured that Muddy Boots Maple's website would be easily accessible to potential customers and aligned with their brand image.
Hosting and Maintenance Plan
Reliable and secure website hosting is crucial for businesses, especially those engaging in e-commerce. Sunnvalley offered Muddy Boots Maple a top-tier hosting solution, guaranteeing optimal website performance and data protection. Additionally, Sunnvalley provided a comprehensive maintenance plan, ensuring that Muddy Boots Maple's website would always run smoothly and efficiently. Regular updates, backups, and security measures were implemented to safeguard against potential technical issues and cyber threats.
E-commerce Website Development
Sunnvalley's expertise in e-commerce website development has proven instrumental in propelling Muddy Boots Maple's online success. By leveraging cutting-edge technologies and industry best practices, Sunnvalley designed and developed a visually captivating and intuitive e-commerce platform. The website showcases Muddy Boots Maple's products, enabling customers to browse, select, and purchase items seamlessly. Sunnvalley prioritized creating a seamless user experience, implementing features such as secure payment gateways, easy navigation, and smooth checkout processes.
On-Page SEO Optimization
Customers are searching for your business online. To maximize Muddy Boots Maple's online visibility and drive organic traffic to their website, Sunnvalley conducted comprehensive on-page SEO optimization. Sunnvalley's team of SEO specialists implemented strategic keyword research, optimized meta tags and descriptions, and fine-tuned the website's structure and content. By aligning Muddy Boots Maple's website with industry best practices, Sunnvalley ensured that the business would rank favorably in search engine results, increasing its chances of being discovered by potential customers.
Monthly Support and Reporting
Sunnvalley's commitment to Muddy Boots Maple extends beyond the initial website launch. Sunnvalley provides ongoing support, ensuring that the website remains secure, up-to-date, and fully functional. Additionally, Sunnvalley generates comprehensive monthly reports that provide valuable insights into website traffic, user behavior, and other key performance indicators. These reports empower Muddy Boots Maple to make data-driven decisions, identify areas for improvement, and refine their marketing strategies. Read more about the power of an updated website.
Driving Business Growth
By partnering with Sunnvalley, Muddy Boots Maple has experienced significant growth in their online presence and sales. The meticulously designed e-commerce website, coupled with Sunnvalley's professional web design expertise in domain registration, hosting, on-page SEO, and ongoing support, has allowed Muddy Boots Maple to captivate a wider audience and expand their customer base. The combination of a visually appealing and user-friendly website, enhanced online visibility, and regular performance tracking has driven tangible business results for Muddy Boots Maple.
Conclusion: Sunnvalley's collaboration with Muddy Boots Maple stands as a testament to their commitment to providing exceptional web design solutions. By building an e-commerce website enriched with seamless functionality and captivating aesthetics, Sunnvalley has empowered Muddy Boots Maple to thrive in the competitive world of online retail. From domain registration and hosting to on-page SEO optimization and ongoing support, Sunnvalley's comprehensive services have propelled Muddy Boots Maple's online success. Through this partnership, Sunnvalley continues to demonstrate their expertise in web design and their dedication to helping businesses flourish in the digital landscape.