In today's digital age, a compelling online presence is essential for businesses to stand out in a competitive market. Sunnvalley, a leading web design company, recently partnered with Northern Comfort Motel, Colebrook NH – a renowned hospitality establishment—to revamp their website and reinvigorate their brand. This blog post delves into the collaborative journey between Northern Comfort and Sunnvalley, showcasing the range of services provided and the transformative impact on the business. From logo redesign and custom website development to photography and print collateral, Sunnvalley's expertise has resulted in a refreshed brand experience for Northern Comfort.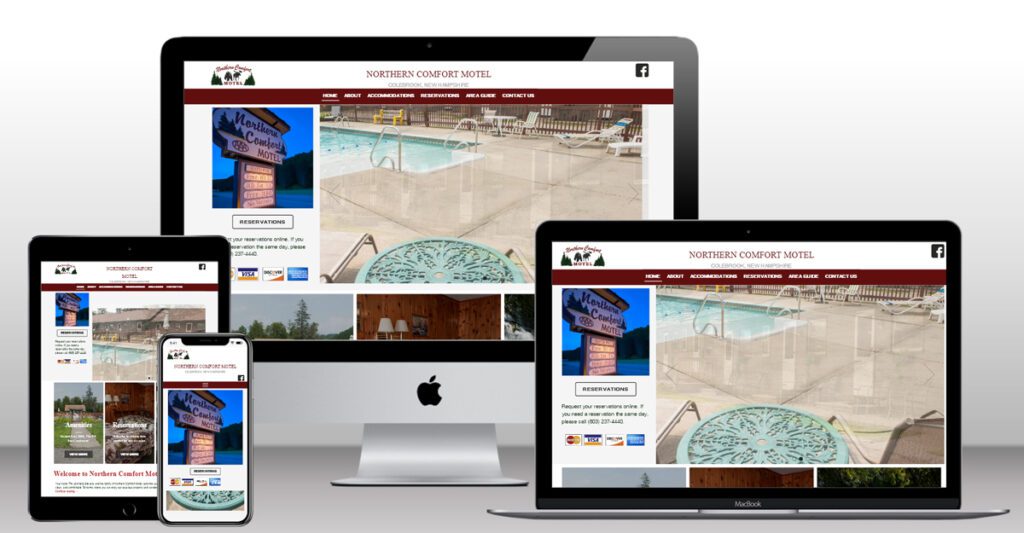 Logo Redesign
A logo is the visual representation of a brand and plays a crucial role in establishing brand recognition. Sunnvalley's talented team undertook the task of redesigning Northern Comfort's logo, incorporating elements that resonate with the brand's identity and values. Through meticulous design and attention to detail, Sunnvalley ensured that the new logo conveyed the essence of Northern Comfort's hospitality, warmth, and exceptional service.
Custom Website Development
To create a seamless digital experience for Northern Comfort's visitors, Sunnvalley embarked on developing a custom website. This process involved combining captivating visuals, user-friendly navigation, intuitive functionality, and on-page SEO. Sunnvalley's expertise in web design and development resulted in a visually stunning website that showcases Northern Comfort's unique offerings and amenities. Coincidently the custom website not only elevates the user experience but also reflects the essence of Northern Comfort's brand identity.
SSL & Backups
Sunnvalley understands the importance of security in the digital landscape. To protect Northern Comfort's website and customer data, Sunnvalley implemented SSL (Secure Sockets Layer) encryption. This ensures that all sensitive information transmitted through the website remains secure. Additionally, Sunnvalley established regular backups of the website, guaranteeing the safety and integrity of Northern Comfort's valuable digital assets.
Business Email
As part of their comprehensive web design services, Sunnvalley provided Northern Comfort with professional business email accounts. These customized email addresses, such as [email protected], contribute to a more professional and credible online presence. Sunnvalley ensured a seamless integration of these email accounts, allowing Northern Comfort to effectively communicate with their guests and partners.
Custom Reservation Form
To streamline the booking process and enhance the user experience, Sunnvalley developed a custom reservation form for Northern Comfort's website. This form allows guests to easily check availability, select preferred dates, and provide necessary details for their stay. The seamless integration of the reservation form simplifies the booking process, ensuring a frictionless experience for guests and optimizing Northern Comfort's operational efficiency.
Commercial Photography
Visual imagery plays a pivotal role in capturing the essence of a hospitality establishment. Sunnvalley collaborated with Northern Comfort to create visually stunning photography that showcases the beauty of the property and its surroundings. Through expert composition and artistic direction, Sunnvalley's photography captures the unique ambiance and comfort that Northern Comfort offers its guests.
Print Collateral
In addition to the digital transformation, Sunnvalley assisted Northern Comfort in revitalizing their print collateral. This included designing eye-catching business cards, rack cards, room cards, and gift certificates. By aligning the visual branding across digital and physical mediums, Sunnvalley ensured a cohesive and memorable brand experience for Northern Comfort's guests.
Conclusion: Northern Comfort's journey to a new website and brand, guided by Sunnvalley, exemplifies the power of strategic collaboration and expertise in web design. Through logo redesign, custom website development, SSL implementation, business email setup, custom reservation forms, captivating photography, and refreshing print collateral, Sunnvalley has elevated Northern Comfort's brand experience to new heights. The transformative impact of these services ensures that Northern Comfort can effectively engage with their guests, create lasting impressions, and deliver exceptional hospitality.