In today's highly competitive business landscape, establishing a strong online presence is crucial for success. Rancourt Trucking, based in Clarksville, NH, recognized the importance of staying up-to-date with the latest technology trends and went ahead with their website redesign. To ensure their online presence matched their brand and met the demands of the modern digital era, Rancourt Trucking continues long time partnership with Sunnvalley, a leading web hosting and analytics provider. This collaboration resulted in an enhanced website, improved security measures, and an analytics tool that can help Google and potential customers find them more effectively.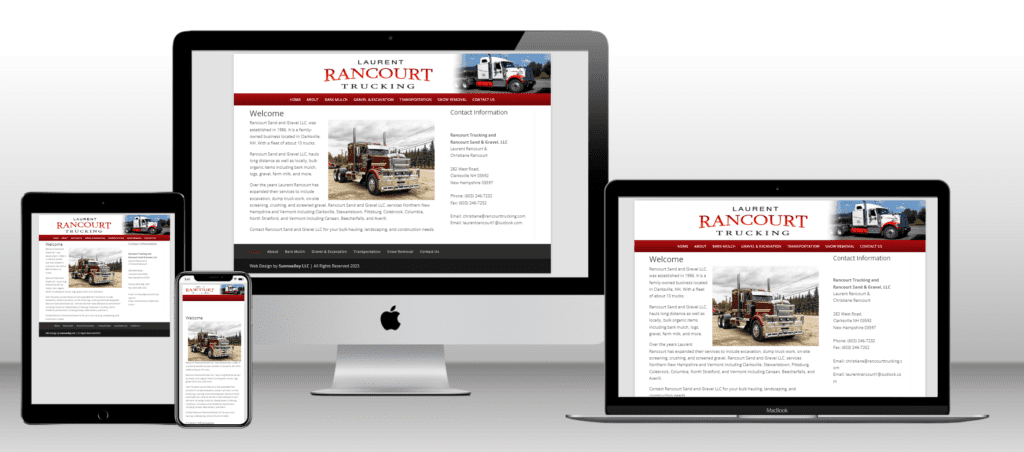 Upgrading the Hosting, Platform, and Software
Rancourt Trucking understood that their existing hosting, platform, and software needed an upgrade to provide a better user experience. By partnering with Sunnvalley, they gained access to state-of-the-art hosting services that ensured faster website loading times and improved reliability. Sunnvalley's powerful platform allowed Rancourt Trucking to leverage cutting-edge technologies, ensuring a seamless browsing experience for their customers.
Moreover, the collaboration enabled Rancourt Trucking to upgrade their software to the latest versions, ensuring optimal performance, compatibility, and security. This upgrade provided a solid foundation for future website enhancements and scalability.
New Sunnvalley's Analytics Tool
Understanding user behavior and preferences is vital for any business's success in the digital realm. Rancourt Trucking recognized the significance of data-driven decision-making and marketing. Sunnvalley provides a robust analytics tool in all the new website redesigns and website upgrades.
The analytics tool offered by Sunnvalley provides comprehensive insights into website traffic, user engagement, and conversion rates. By analyzing these metrics, Rancourt Trucking can make informed decisions about optimizing their website's content, layout, and overall user experience. Additionally, the analytics tool allows Sunnvalley to track the effectiveness website and identify areas for improvement.
Enhanced Security and SSL Implementation
In an era where online security threats are rampant, ensuring the protection of customer data is paramount. Rancourt Trucking prioritized the security of their website and the trust of their customers. By partnering with Sunnvalley, they implemented robust security measures, including SSL (Secure Sockets Layer) certification.
The SSL certification encrypts all sensitive information transmitted between the website and its users, safeguarding it from potential cyber threats. With this enhanced security, Rancourt Trucking assures their customers that their data is protected, building credibility and trust.
Improved Online Visibility with Google
An attractive and secure website is meaningless if potential customers can't find it. Recognizing the importance of search engine optimization (SEO), Rancourt Trucking collaborated with Sunnvalley to implement strategies to enhance their online visibility, particularly on Google.
With Sunnvalley's expertise in SEO, Rancourt Trucking's website is optimized to rank higher in search engine results. This optimization includes keyword research, on-page optimization, and technical SEO improvements. By aligning their website with Google's guidelines, Rancourt Trucking increases their chances of being discovered by potential customers actively searching for their services.
Rancourt Trucking's decision to update their hosting, platform, and software with Sunnvalley has resulted in significant improvements to their online presence. Their updated website showcases their services, products, and contact information in a secure and visually appealing manner, perfectly aligning with their brand. Additionally, the integration of Sunnvalley's analytics tool, SSL certification, and SEO strategies has enhanced their website's performance, security, and visibility on the web. With this digital transformation, Rancourt Trucking is well-positioned to attract new customers and achieve sustained success in the competitive truck