In today's digital age, having a custom website design for your business is more important than ever. Your website is your online storefront, open 24/7, and it can make a great first impression on potential customers. It's also a powerful tool for selling, providing information, and engaging with your target audience.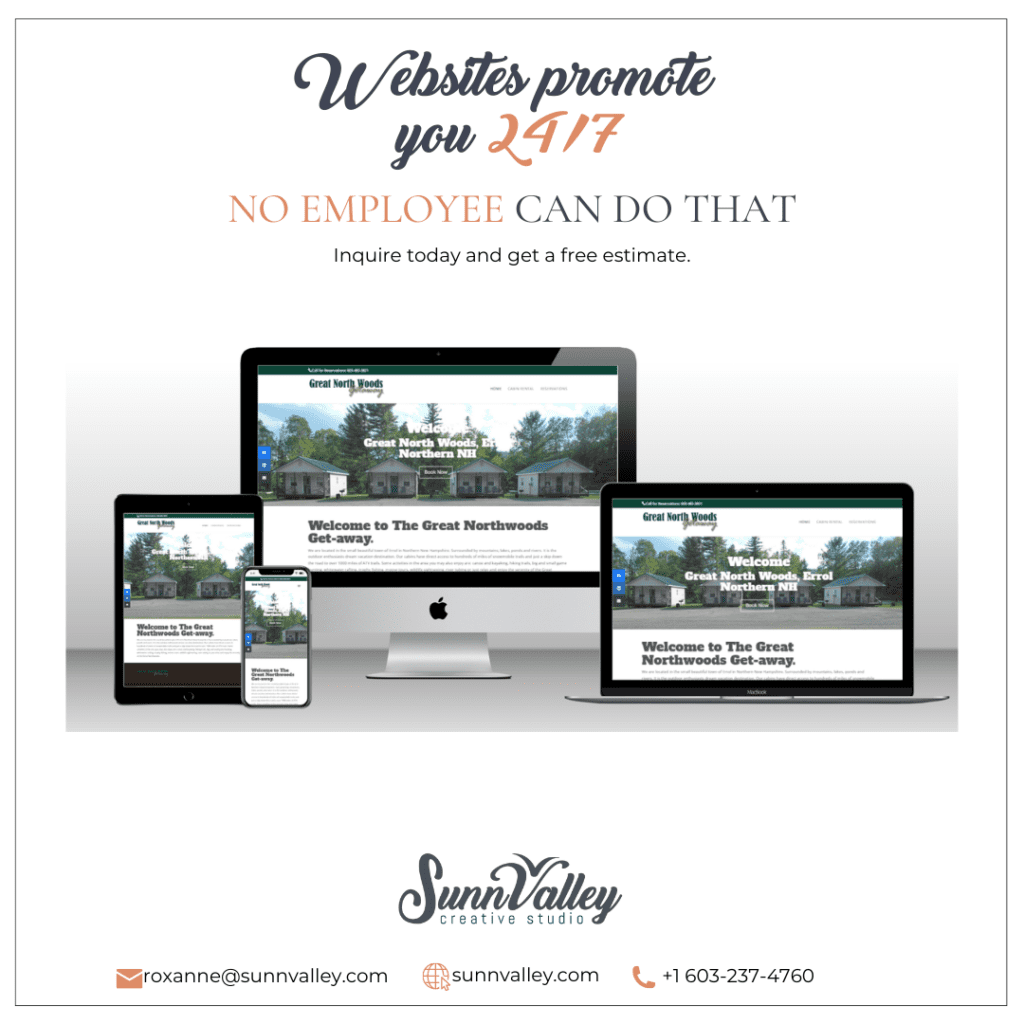 Here are some tips to help you get the most out of your website:
Create a great first impression
Your website's design and user experience play a crucial role in creating a great first impression. According to a study by Google, it takes less than 50 milliseconds for users to form an opinion about your website. Therefore, it's essential to invest in a visually appealing and user-friendly design and then market your website.
Start by choosing a color scheme and layout that aligns with your brand's identity and message. Use high-quality images and graphics that are relevant to your business and industry. Make sure your website's navigation is easy to use and intuitive, so visitors can find what they're looking for quickly. Here are some tips for preparing for a new or redesigned website.
Another important aspect of creating a great first impression is having a responsive website. With mobile devices accounting for over half of internet usage, it's crucial to ensure that your website is mobile-friendly. A responsive website adjusts its layout and design to fit different screen sizes, ensuring a seamless user experience across all devices.
The perfect tool for selling
Your website can be a powerful tool for selling your products or services. According to a study by Forrester, 70% of US adults research products online before buying them in-store. This means that having an online presence can significantly impact your sales. Here are some additional tips for marketing a new business.
Start by creating a clear and concise product or service page that provides all the necessary information about what you're selling. Include high-quality images, product specifications, and pricing details. Make it easy for visitors to add items to their cart and checkout securely.
Another effective way to use your website as a tool for selling is by implementing a chatbot or live chat feature. These tools allow visitors to ask questions and get real-time support, which can increase the chances of them making a purchase.
Directory Website
Incorporating a directory on your website is a powerful tool for visitors to quickly and easily navigate through various businesses and services. By offering a comprehensive list of options within a specific industry or region, visitors can save time and effort in searching for relevant information, while establishing your website as a go-to resource. This can help build credibility and trust among visitors, increase the likelihood of repeat visits and referrals, and provide a seamless user experience. Whether it's a real estate, dealership, or chamber of commerce directory, having this feature on your website is a valuable asset for visitors and businesses alike.
brochure website
Even if you're not selling products or services online, your website can still be a valuable tool for promoting your business. Use it as an online brochure to showcase what you do, the benefits of your products or services, and why customers should choose you over your competitors.
Start by creating a homepage that clearly communicates your brand's message and mission. Use high-quality images and graphics to support your message. Then, create separate pages for different aspects of your business, such as your team, your history, and your values.
Membership website
Providing online membership to your clients can bring a range of benefits to your business. Online membership can provide your clients with exclusive access to special offers, discounts, and content that are not available to non-members. This can help to increase customer loyalty and retention, as well as foster a sense of community among members. In addition, online membership can also offer your business valuable data and insights on your customers, which can be used to tailor your marketing and sales strategies. One example of this is Amazon Prime, which offers members free shipping, exclusive deals, and access to streaming content. The convenience and value provided by Amazon Prime have helped to create a loyal customer base and have contributed significantly to Amazon's success.
Use analytics to track your website's performance
Finally, it's essential to track your website's performance using analytics. Analytics tools such as Google Analytics provide valuable insights into how visitors are interacting with your website, including how many people are visiting, how long they're staying, and which pages they're visiting the most. Listing your website in online directories can improve your SEO.
Use this data to optimize your website's design, content, and user experience. For example, if you notice that visitors are leaving your website after visiting a certain page, you may need to improve the content or layout of that page.
In conclusion, your website is a valuable tool for promoting your business, selling your products or services, and engaging with your target audience.