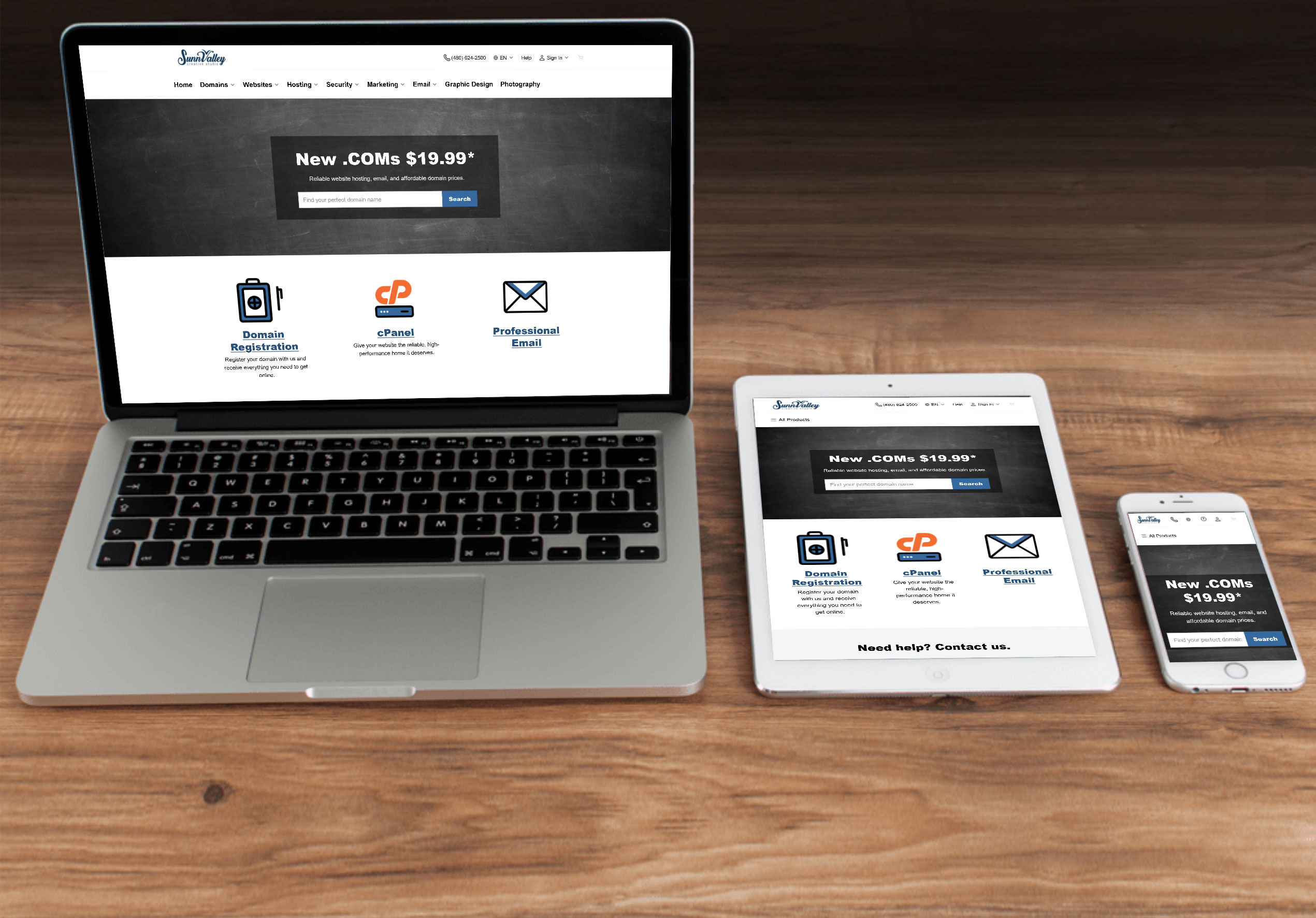 Sunnvalley can create a great first impression for your business with an easy-to-use, beautiful, and custom-designed website.
Your website is a visual representation of your business and should be something you are proud of.
Sunnvalley is a GoDaddy Pro user, and works with select third-party companies, bringing you high-quality, easy-to-use, affordable products and services.
Sunnvalley will help you reach your goals and provide you with a website with a clean and neat design that is easy to find.
Choose from our Pay as You Go option or annually contracted Web Design Packages.
Consultation
Describe your business. Do you have a website already?  Do you have a domain and hosting?  What items are must-haves for your website?
Research & Free Estimate
Sunnvalley will research your market, and come up with an estimate or suggest a package for your business.
Gather Content
We can write content and provide commercial photography services, stock, or custom graphics or you can send what you'd like and we'll put it together for you. 
Create Website
Sunnvalley begins the design process after an initial deposit.  You will be given a link of the site to view the progress every step of the way.
Final Changes & Approval
The website will be tested on several browsers and devices for final changes. 
Launch Website
The website will be added to major search engines for indexing.  URL should be added to all of your marketing materials and social media accounts. We offer additional SEO services.
Shop our full range of web design, and online marketing products for your business. Start new, or transfer current site.
"
"I've worked with Roxanne of Sunnvalley Creations for the past couple years on two different websites she built and that I am, now, helping the organizations maintain, along with Roxanne. She has been extremely patient dealing with my many questions and has helped make our webpage presentation effective, as well as the maintenance simple, even for this very technically limited person."
-Sheila Beauchemin Metallak ATV, Colebrook Town Office
"
"Sunnvalley takes care of all of our website needs from designs and updates to security. Roxanne responds quickly to our requests and is easy to work with. We highly recommend Sunnvalley."
-Marcia Parkhurst Columbia Town Hall
"
"We have been doing business Sunnvalley and Roxanne for a few years, we are very pleased with our web design and the graphics. We plan on doing business with her for as long as we can."
Linda Beloin – Beloin Evergreens
"
"C.Bean Transport is pleased with the redesign of our website. Roxanne is easy to work with, understands our business, and we look forward to working with her in the future."
Kristie Bean-Wallace, CBean Transport
"
"Roxanne created our website several years ago and since then has ensured that updates were made as needed. We are pleased with the design and look forward to continuing to work together and grow our business!"
– Jen- Black Bear Tavern
GET STARTED WITH A FREE QUOTE