Client Overview:
Daniel Hebert Inc., a distinguished company with a legacy dating back to 1928. They are a leader in general contracting, mechanical system design, construction management, refrigeration system design, design-build, pre-engineered metal buildings, municipal infrastructure installation, and public & private water supply development. SunnValley, a dynamic digital agency, specializes in web design, graphic design, strategic consulting, and photography. This case study explores the successful collaboration between SunnValley and Daniel Hebert Inc. They worked together to redesign the latter's website, blending traditional excellence with contemporary digital innovation.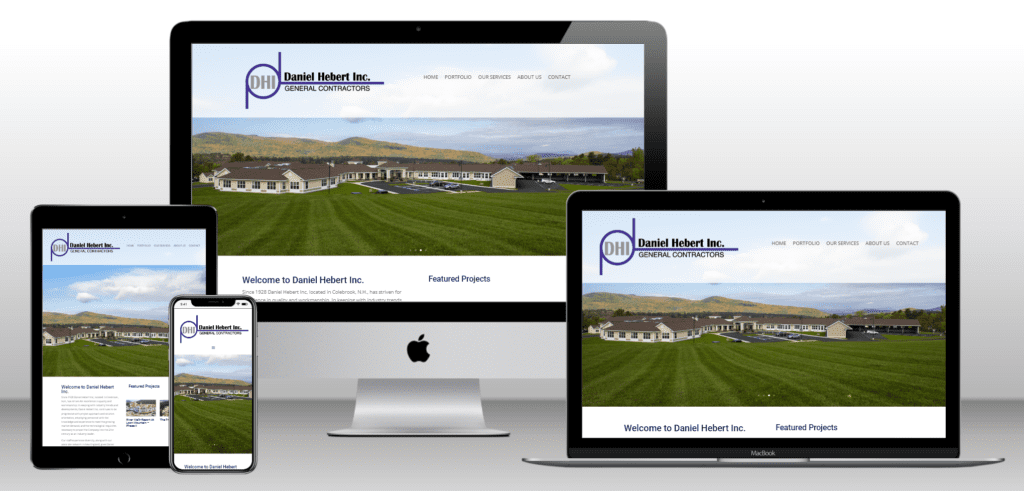 The Redesign Challenge
Daniel Hebert Inc., is steeped in a rich history of quality workmanship. They sought a digital transformation to align its online presence with its longstanding reputation. The challenge was to create a website that not only showcased the diverse range of services offered but also reflected the company's commitment to innovation. SunnValley's strategy was to infuse a modern and user-friendly design into the digital face of Daniel Hebert Inc.
The Redesign Solution
In a collaborative effort, SunnValley embarked on a strategic website redesign project for Daniel Hebert Inc. The solution encompassed:
Modern Design Integration: SunnValley incorporated a modern and visually appealing design that highlighted the breadth of Daniel Hebert Inc.'s services, ensuring a seamless user experience.
User-Focused Navigation: The website's navigation was optimized to provide easy access to information about general contracting, system design, construction management, and other services, enhancing user engagement.
Strategic Content Placement: SunnValley strategically placed content and visuals to effectively communicate Daniel Hebert Inc.'s expertise in diverse areas, creating a compelling narrative for potential clients.
Responsive Design: Ensuring compatibility across devices, the redesigned website was made fully responsive, catering to the needs of users accessing the site from various platforms.
Showcasing Collaborative Projects: SunnValley collaborated with Daniel Hebert Inc. to showcase their completed projects, offering visitors a comprehensive view of the company's capabilities and successful endeavors.
Results and Impact
The revamped website has significantly impacted Daniel Hebert Inc.'s digital presence and overall business:
Enhanced Credibility: The modern design and strategic content placement have reinforced Daniel Hebert Inc.'s credibility, aligning its online image with its legacy of excellence.
Improved User Engagement: The user-focused navigation and responsive design have led to increased user engagement, with visitors easily exploring the range of services offered.
Broader Reach: The website's revitalization has expanded Daniel Hebert Inc.'s reach, attracting a wider audience interested in its comprehensive suite of services.
Cross-Service Collaboration: The collaborative effort between SunnValley and Daniel Hebert Inc. has set a precedent for cross-industry collaboration, showcasing the seamless integration of traditional and digital expertise.
Conclusion:
SunnValley's successful redesign of Daniel Hebert Inc.'s website exemplifies the harmonious blend of traditional craftsmanship and contemporary digital innovation. This case study serves as a testament to the transformative power of strategic collaborations in creating a compelling online presence that resonates with both tradition and innovation.